TIME5100 - Metal Hardness Tester
3 Models available
TIME5100 - Standard model with integrated impact device D
TIME5102 - Special model for Hardness Measurement on surface hardened components, coatings, thin walled components. It has app. 1/4 impact energy of TIME5100/TIME5104. Integrated impact device C.
TIME5104 - Special model for Hardness Measurement in extremely confined spaces. Integrated impact device DL.

The small portable TIME5100 hardness testers with integrated impact device are designed for an extremely wide range of applications. They are especially recommended for Hardness Measurement on the shop floor. The automatic identification of the impact test direction makes them easy to use. Hardness tests are possible at any angle, even upside down. The data memory stores up to 270 values. Data can be transferred via USB interface to a computer or printer.

The outstanding features of the TIME5100 includes speedy and exceptionally user-friendly operation and high measuring accuracy, with an extremely low tolerance of ± 1.5%.

The hardness tester functions by releasing a small impact device on to the metal testing surface by means of a spring mechanism. The gauge's dynamic measuring procedure works by calculating the difference between the impact velocity and the rebound velocity of impact device.

The TH-170 can be used on a whole variety of metals. A statistics program calculates the mean hardness value from a number of single readings. Readings can be printed out immediately on a mini-printer or stored for later processing.

Hardness Measurement on metal substances such as:

Steel, cast steel, cold work tool steel, stainless steel, grey/nodular cast iron, aluminium, cast aluminium alloys, brass, bronze and wrought copper alloys
Features
Portable dynamic metal hardness testing set
Automatic identification of impact test direction
Memory up to 270 average readings in 9 freely selectable files
Automatic power off
Data output USB
Integrated impact device: no cables
Direct display of hardness values in Rockwell HRB, Rockwell HRC, Vickers HV, Brinell HB, Shore HS and Leeb HLD
Test at any angle, even upside down
For nearly all metals
Upper and lower limit setting
Large LCD with backlight
Calibration feature
Typical Applications
Large, heavy components or fixed machine parts
Serial products during the production process
Material identification in storage
Measurement on locations with difficult access
Measurement Conditions
Minimum measuring area 10 mm x 10 mm
Minimum curvature radius r of the measuring area, 30 mm, without adapter.
Minimum curvature radius with screw-on V-adapter, 11mm.
Samples weighing less than 5 kg and samples less than 5 mm thickshould be placed on a solid base to prevent vibration.
Samples weighing less than 2 kg should be fixed to a solid base withcoupling paste.
Complete Kit
The TIME5100 series complete kit includes the gauge, test block with HLD value, charger, cleaning brush, coupling paste, pocket protection case, data cable, manual and certificate all within a plastic carrying case.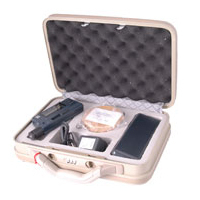 >>>>>>>>>>>>>>>>>>>
Please check seamler ( Data sheets )
---